Quick-Acting Watertight Door
With a quick turn of the handwheel or lever, this watertight/airtight door offers simple, reliable operation for virtually any pressure requirement. Designed for locations where the door will be used frequently, these doors require no air pressure or power, and are available in any size.
The handwheel or quick-acting lever rotates dogs (latches) located around the perimeter of the door panel, sealing the compression gasket against the door frame. Double gaskets are available for critical applications.
Double panel doors, as well as larger doors with smaller access doors set into the larger panel are available.
For clean rooms, tanks, or other locations where cleaning of the door panel is important, the wet side of the door can be totally smooth, with all operating gear on the dry side.
As with all our products, frames are available for bolting or welding to existing masonry openings or can be provided with integral masonry subframes for embedding in new pour concrete.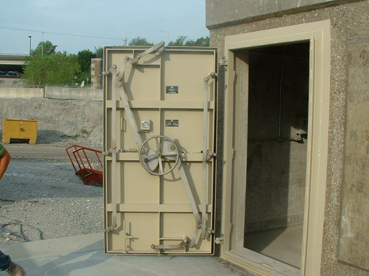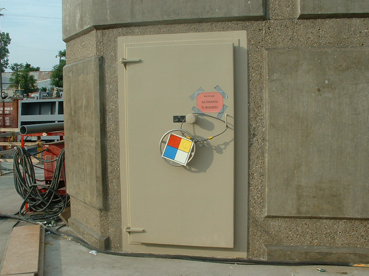 Built to your requirements – no practical size limit
Unlimited pressure in the seating direction; unseating pressures may be limited on very large doors
Compression gasket – neoprene, Viton, EPDM, silicone, nitrile & others
Mild steel, stainless steel, aluminum, various high strength steels
Bolt-on, weld-on, masonry subframe
Typically Raised; removable sill available for some applications
Quick-acting handwheel or lever operable from one or both sides
Power, fixed windows, pressure relief valves, door status indication, & others